What a difference a day makes….
3rd January 2023
Following the winter wonderland of yesterday, today was always going to be a return to Scottish Winter reality 🙁  The Gale Force South/South-East winds (known locally here in the Northern Cairngorms as 'The Full Monty') didn't disappoint.  As the winds rip across the plateau  they accelerate down into the Northern Corries rendering the ski area and road closed first thing.
The photo below shows the view across Loch Morlich taken around 9am.  The Loch still frozen (but not for long) and the mountains above obscured by cloud.
As the morning progressed, visibility improved.  The photo below was taken at an altitude of 550m at the Ciste Car park looking towards the Ciste Gully and Coire Laogh Mor.  The maelstrom of cloud/drifting snow highlights the strength of wind up high and is synonymous with 'The Full Monty'.
The hardy Scots Pine trees at 550m bear witness to the strength and prevailing wind direction, stripped bare on their windward sides.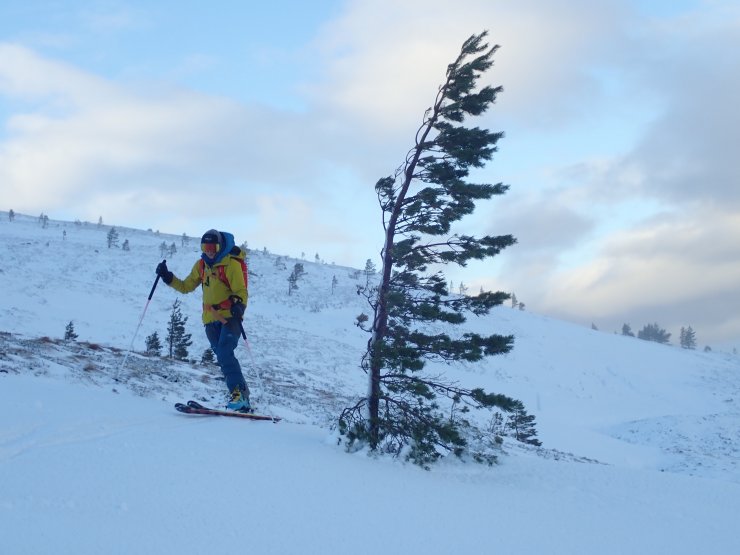 As forecast, instabilities in the snowpack were noted even at lower elevations in wind sheltered locations.  Our snow profile today was taken on the fracture line of a natural slab avalanche which will have occurred sometime overnight.  This is at an elevation of 570m on a Northerly aspect.
Debris extended approx 50m down the fall line and 100m across.  The slab failed on buried facets and a very weak layer of partially decomposed particles.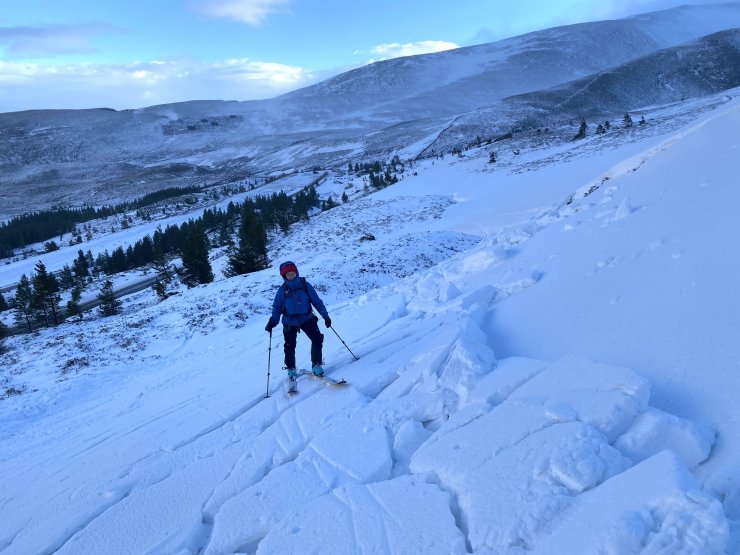 The North facing Cas Headwall at 1100m also avalanched early this morning.  The scale and amount of debris is impressive.  Thanks to Iain from Cairngorm Mountain ski patrol for the photo.

If your out and about in the hills and happen to see any debris from recent avalanche activity here's the link to report an avalanche
https://www.sais.gov.uk/report_avalanche/
It's all good information, and much appreciated by the SAIS team.
Looking ahead in Northern Cairngorms, the freezing level is rising above the summits tonight and rain is expected followed by cooler temperatures tomorrow, this will help to consolidate the snowpack.
Comments on this post
Got something to say? Leave a comment