Thick Cloud- Deep Snow
24th December 2009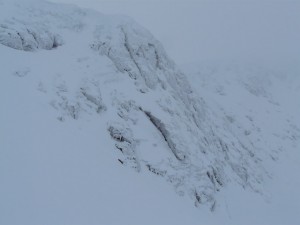 Looking onto Mess of Potage in Coire an t Sneachda.
A day of very poor visibility and deep snow – difficult trail breaking – it took a party 3hrs to get to the base of the crag in Coire an T Sneachda from the car park !
The snowpack feels very spooky especially with the weak layers 40 cm down on the old surface hoar layer on what seems like all aspects.
Comments on this post
Got something to say? Leave a comment