Avalanche day
10th January 2010
Six separate avalanches were noted today on Westerly and North-West aspects. One was triggered on the Chais Headwall. There has been a lot of drifting and new windslab is overlying the soft snow from yesterday. This is making the snowpack very unstable and the picture below demonstrates the windslab failing on isolation on the soft snow beneath.
Drifting on across the Chais ridge on a strong Easterly wind.
Recent avalanche debris below Jacobs Ladder…not triggered by the skier who has just made a descent of the gully. A calculated risk???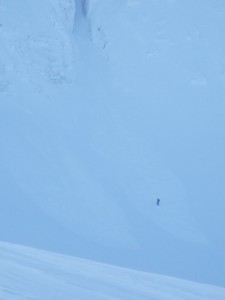 Comments on this post
Got something to say? Leave a comment