A day for Avalanches
12th February 2011
After last night's stormy weather and all of the avalanche activity it turned into a pleasant day.

There have been several natural and human triggered avalanches today in the Chais headwall area and Northern Corries. This photo is of a triggered avalanche below the Fiacaill Buttress with an unpleasent run out through the rocks.


The large crown wall at the top of the Goat Track.

The debris from the triggered avalanche on the goat track this morning. Two people were carried down.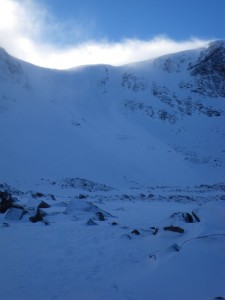 Comments on this post
Got something to say? Leave a comment