Very Cold and Windy with Drifting Snow !
30th January 2012
Windslab cracking underfoot – W aspect 1000 m – a good sign for snowpack instability

Looking at Mess of Potage from Windy Col showing new snow cover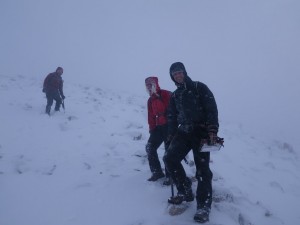 A party descending the Fiacaill a Choire Chais –
More snow arrived than expected, which has created a lot of windslab build up on W through North to East aspects above 900 metres mainly. Severe drifting on the tops and into the crags. Some human triggered avalanche activity reported on a NE aspect at 1100 m.
Comments on this post
Got something to say? Leave a comment