Avalanche Stories
10th February 2012
Avalanche 6th Feb Coire Odhar above Corrour bothy – 2 persons – triggered by 1 person on descent who was carried 200m – all ok – release on weak facet layer
Avalanche report on SAIS Avalanche Mapping Page
Coire Odhar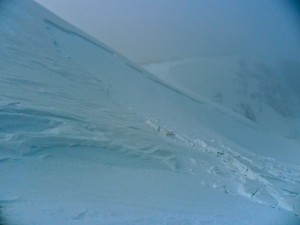 Crown wall with Feith Bhuidhe and Hells Lum crag beyond – released on weak facet layer.
Avalanche stop point and where they came to rest
General scene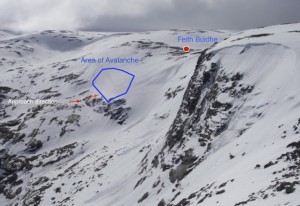 Area of incident 9th Feb 15:00hrs
Over the past couple of weeks or so the snowpack has been affected by the cold air temperatures which has created a temperature gradient in the snowpack, this has resulted in continued development of sugar like, loose grains called facets. Facets are grains that develop in the snow and are associated with shallow snowpacks, they are more frequently observed in countries with a consistent cold weather pattern, eg Alpine, Canada etc.
The weak facet layer has developed between the layers of old firm snow and the newer windslab layer. The windslab layer has been getting harder and firmer while the weak layer below has been getting weaker.
Currently the challenge for anyone going into the hills in the North and South Cairngorms is that there does not seem to be much snow about, therefore considering that an avalanche hazard is possible is not so obvious.
The weak snowpack is very isolated in its distribution and is mainly on East and South-East facing slopes above 900 metres.
In order for the weak layer to disappear it needs to be purged, by weather triggers which provide water to penetrate to it and enable its natural release as an avalanche, or by becoming solid and stable through getting wet with subsequent freezing in cold conditions .
At the moment it is warmer and moist and this layer is in transition, it has been weak and potentially is on its way to improving, we will be monitoring its development.
The following is an account of an avalanche that took place yesterday Thursday 9th Feb and was recounted to me by the the persons involved, it illustrates the conditions described above and is one of a number of avalanches that have taken place in the last week.
Two climbers were returning home after climbing near Shelterstone Crag and where ascending slopes to the south of Hells Lum to the Feith Buidhe. They felt comfortable with the conditions, and had not noted any evidence that made them feel uneasy, the snowpack was firm with a moist surface. At around the 1000 m level they triggered an avalanche and a tension fracture appeared 40m above them, the whole slope broke up into blocks and they were carried down, they stayed on the surface trying to scramble up at first, they went airborne over some small crags, and could see that they were heading toward some cliffs and considered the worst. Fortunately the avalanche stopped 10m short of this cliff. The guys were quite shocked and stated that they would find it difficult trusting any slope in the future because it was so surprising to them. !
The photos illustrate the location and scene
Comments on this post
Got something to say? Leave a comment