Mild with Poor Vis
5th April 2023
After a run of blue sky days, its all change with a day of grey skies and poor visibility. Looking up towards the Northern Cairngorms this morning, things looked promising with the brief opportunity of views into Coire an Lochain. The photo illustrates where the snow still remains, primarily on North-West through North to East aspects above 1000m.  The remaining snowpack is well consolidated and stable.
A few minutes later, the cloud moved in and visibility up high was limited to approx 20m. There was a brief glimpse of the sun and a vague promise of a clearing, but it never did. The photo below is taken on an Easterly aspect around 1100m near the summit of Cnap Coire na Spreidhe.
High East facing corries are holding the snow.  Photo below taken in Ciste Mhearaid, human activity creating an interesting 'honeycomb' in the steep snow bank.
Temperature at the summit of Cairngorm around mid-day was +3.5 degrees, the remaining snow was thawing fast and there were numerous 'puddles'.
No photos today of views up high for reasons stated above, so here's a close up of the information plaque and the summit weather station building. The instruments belonging to Heriot-Watt are 'housed' in the black cylinder on the roof of the building and the lid raises for 3 mins every half an hour to expose the sensitive instruments to the weather.  With the harsh conditions experienced here on the summit at 1345m, left exposed permanently, the instruments would soon be damaged.  The other instruments on the metal tower belong to the met office which provide useful data for the avalanche service.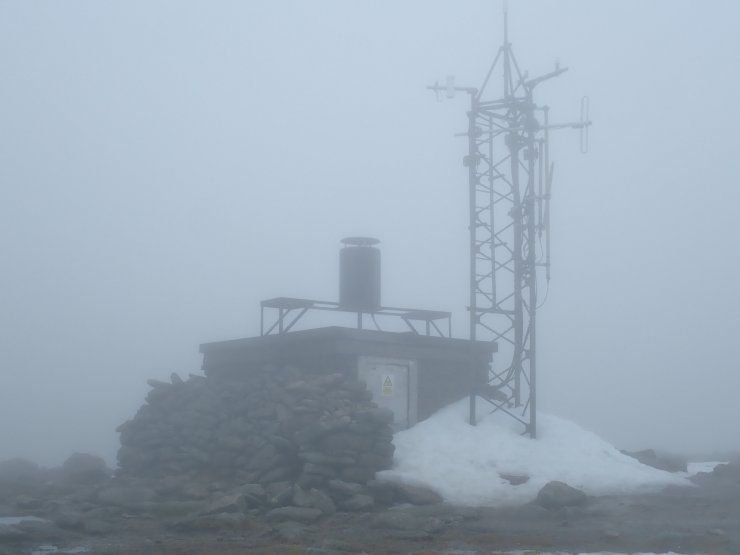 Comments on this post
Got something to say? Leave a comment